Trees Atlanta offering free trees for your street and yard
Update!
We have more details about the different trees available for your yard and street. Thanks Mike from Trees Atlanta for the help!
The ones on the form will likely be larger trees at the start (30-gallon as opposed to our usual 15-gallon trees).
All other trees I've listed below are 15-gallon.
Yard Trees
Shade Trees are available and require at least 20' from powerlines and buildings.
For example:
White Oak (My favorite: provides the most shade and supports the most wildlife)
American Beech (My other favorite, but needs some shade)
Red Oak
Willow Oak
American Linden (young leaves are edible)
Princeton Elm
Wildfire Blackgum
Bald Cypress (loses its needles in the Fall/Winter)
Metasequioa
Fruit Trees are available that are native to the Georgia Piedmont if a shade tree is not suitable for the space.
For example:
American Persimmon
Japanese Persimmon
Pawpaw
Serviceberry
Chickasaw Plum (potentially: depends on nursery availability)
Street Trees
Street Trees: Depends on the right-of-way size and overhead power. 2' wide minimum.
Powerlines = Understory Tree (Max growth habit of 30' tall) such as redbud, serviceberry, deciduous magnolia, parrotia, native and chinese fringetrees.
No powerlines + Wide strip = Shade tree!
Interested in trees on your street? Contact Mike at Trees Atlanta today at [email protected]!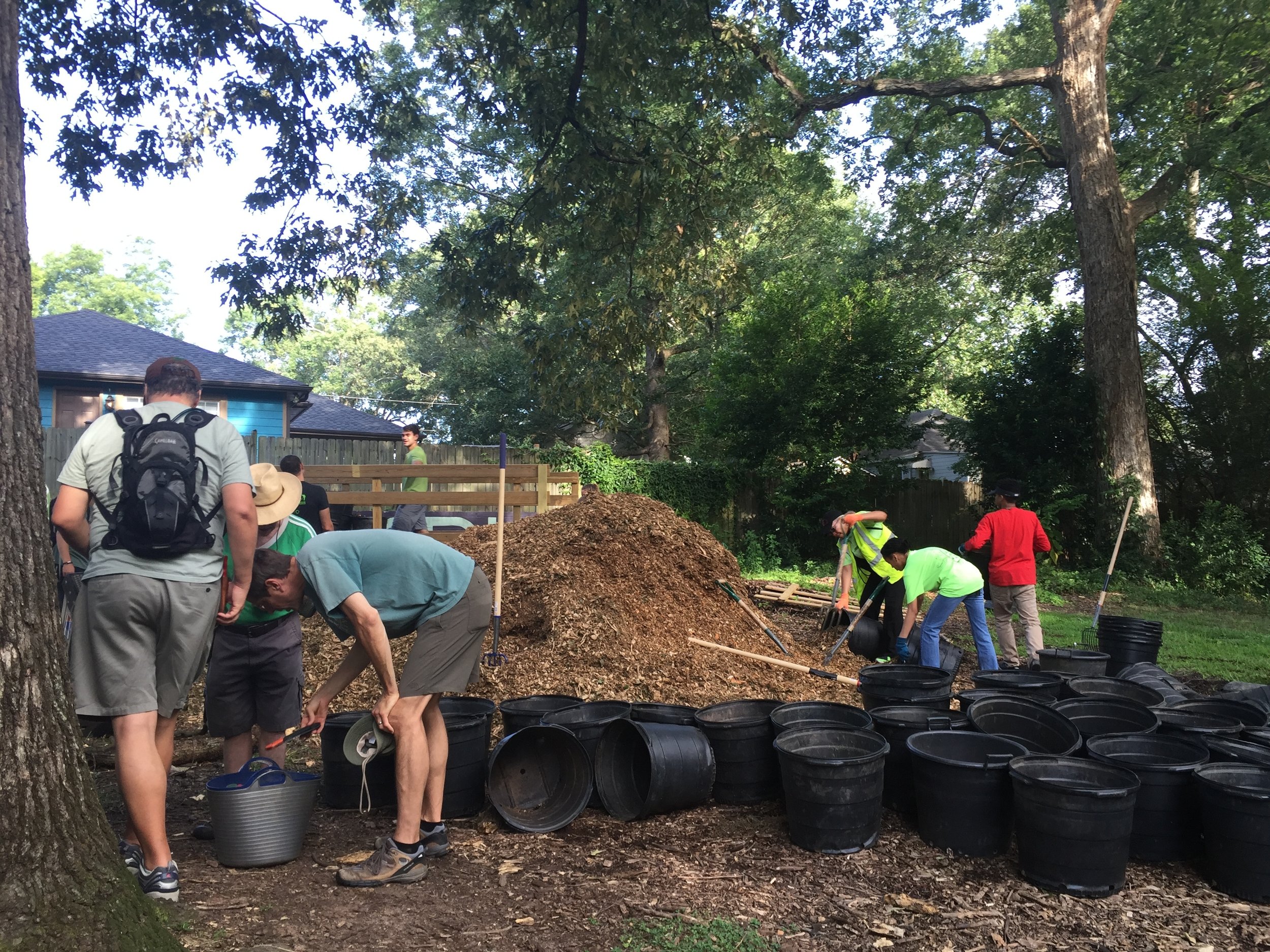 Volunteers mulching freshly planted trees in Brownwood Park.
Trees Atlanta's NeighborWoods Program is beginning their summer planning of tree planting projects!
These projects will take place October-March, with the rest of the year dedicated to tree maintenance. In order to host a Saturday planting, they suggest a minimum of 40-50 trees. Trees Atlanta plants within the city right-of-way, which is the land immediately adjacent to the street. These street trees are the 15-gallon container size. They maintain and guarantee each of these trees for two years via watering, weeding, mulching, staking, and pest control.
Know of any great spots to reforest in your neighborhood or other areas near you? Let us know at [email protected]
Also, did you know that Trees Atlanta's NeighborWoods Program also has a new free tree program for private property?
Unlike the Saturday planting program, this program provides shade trees or fruit trees on private property. These shade trees include oaks, linden, sugar maple, beech, tulip poplar, blackgum, american elm, and bald cypress. These front yard trees are the 30-gallon container size. In situations where there is not enough space available (too close to buildings or powerlines), we also have a free fruit tree program that includes American and Japanese persimmon, paw paw, and Chickasaw plum.
Interested in a free tree for your property?
What is the NeighborWoods program?
It is designed to:
expand and sustain the tree canopy through plantings and maintenance

promote the value of trees, their fragile position in the environment, and their need for ongoing care and management

create a core group of tree advocates that can assist with education and planting programs

generate stronger ties between communities so there are common objectives and projects

provide community groups with assistance in securing funding from outside resources
Recent East Atlanta News & Events